Is something bothering you?
Broken bracket? It probably happened while you were flossing… not eating a Snickers. Right? Either way, something is bothering you. The good news is that usually you can fix it or get it to be more comfortable so that you don't have to sprint out of gymnastics practice to get it fixed. Below are some at-home solutions to common orthodontic problems. Once you get it fixed, go ahead and call our office to see if you need to come in or whether you're good to go.
They day after you get your braces on you might make the decision to never eat again. Discard that idea and take an ibuprofen or Tylenol. Ortho pain typically peaks 1-2 days after the braces were put on and then gets better. During this time, avoid hard foods and take Ibuprofen or Tylenol per the instructions on the bottle.
If you get a sore on your lips or cheeks, using Orabase (from CVS or Walgreens) is the best way to make it feel comfortable. Just put a little dab on the affected area and you'll feel better for a while. Also use the wax that was given to you and press a small piece into the brackets in the area that's causing the sore. Sores usually last for about 10 days. Hang in there. It'll get better.
Loose bracket
If you have a bracket that's loose and moving on the wire, it's probably not bothering you. Go ahead and call the office and we'll let you know whether it's best to come in or wait until your next visit to get it put back on. If the bracket is bothering you, put wax on it and call the office. We'll get you in as soon as we can.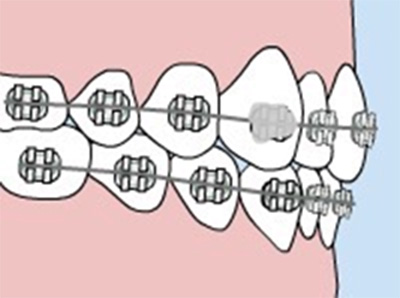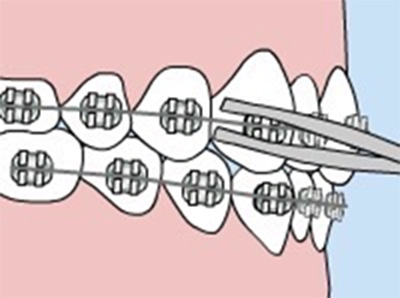 Loose wire
Sometimes the wires shift and it'll feel pokey. Usually you can shift the wire back using some tweezers. Yay! If that's not working go ahead and call our office and we'll schedule you to come in. If it's really bugging you, use some nail clippers to clip it yourself. We'll patch it back up when you come in.
Poking wire
As the teeth move, sometimes a wire will start poking out the end. Bummer. Sometimes, using a pencil eraser and pushing on the poking wire can move it out of the way. Give it a try and call our office if that doesn't work.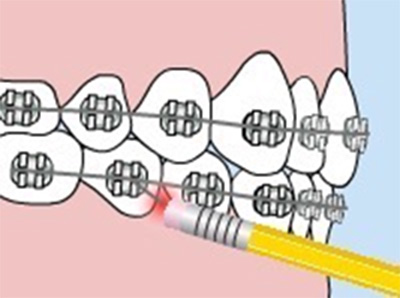 Lost an Invisalign Tray
Left it in a napkin at Chick-fil-A? You're not the first. If you're supposed to switch trays in the next 4 days, go ahead and step up trays early. Otherwise, put in your previous tray and call the office and we'll order a replacement tray. Easy.